For an Australian who had never been to a COP meeting – the world climate summit – the whole experience comes as a bit of a shock.
Here at COP27  in Sharm El Sheikh, surrounded by the full spectrum of political views, it is hard to understand how climate change and decarbonisation have become such a fraught topic in Australia.
In part, it is because all involved in the debate have all allowed it to become political – rather than containing the debate in the scientific, geographical, and historical domains, as it is so often seen in its proper context elsewhere.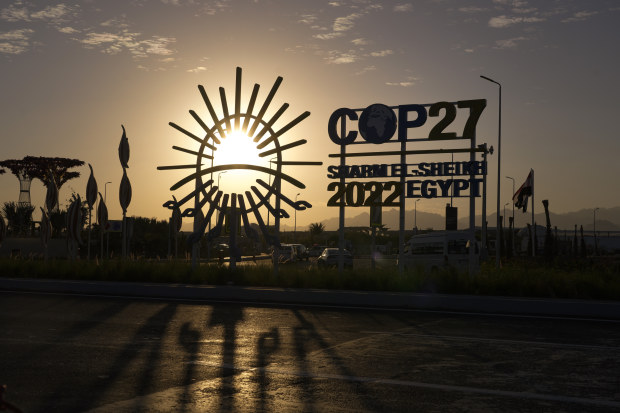 Collectively, we have all failed to explain the choices to average Australians, certainly not to those who have grown up on cheap and abundant energy.
There is no "COP for Dummies", nor phonics for climate change, just a bombardment of TikTok sound bites and virtue signalling, without any real engagement or explanation of many of the conditions precedent for an effective and affordable decarbonised economy such as grid resilience, transitional fuels, and above all else, energy-efficient homes, businesses, and industries.
One thing which is obvious is that Australia is well placed to make the most out of the myriad and rapidly developing COPportunities.
The other striking thing about COP is that the global acceptance of nuclear as part of the clean-energy baseload mix is a non-issue.
At the weekend, US Special Envoy for Climate John Kerry opened a vibrant panel debate on this theme, animated by the CEOs of two small modular reactor (SMR) companies in the USA, NuScale and Natrium, and bookended by the US' former ambassador to the International Atomic Energy Agency. The point was continuously made that the US' leading role in the development and construction of SMRs both in Wyoming and Idaho, as well as in Europe, has deep bipartisan support.
The US sees this as a major future export, both the know-how and the technology.
Capable of being located within the existing footprint of retired coal-fired power sites, or as the US industry nonchalantly repeated, adjacent to energy-intensive industries, or even "next to cities".
An Australian audience member hesitantly asked: "How did you decide where to put it?" The response was simple: "We had a run-off. Five cities wanted to host it, so after a long process we chose one. But we've promised to do our next one at one of the other sites".
From the Australian perspective, this response seemed almost other-worldly, with Australia's concept of nuclear power stuck somewhere between 1986 and 2011.
In the minds of our allies, at least, nuclear energy is an integral part of national security and strategic collaboration.
COP circus
Having worked in global trade for the past decade, I expected a format akin to a World Trade Organisation event – hundreds, if not thousands of cloistered trade negotiators beavering over words in bracketed text, with the occasional industry representative in the corridor.
COP is a bit like the WTO at its core – but with Davos, Coachella and Expo 88 overlaid through its theatrical outer shells.
The prized lanyard is a "blue zone" pass granting entry to the "it's in there somewhere" negotiating plenary; but also to the hundreds of pavilions representing nations, and equally NGOs and interest groups, ranging from the Coalition of Rainforest Nations to Nuclear for Climate. There's also a Children and Youth pavilion watching over the COP circus like Orwellian taskmasters.
While the dynamic inside the negotiations will affect everything happening outside the room, the real energy is in the business dialogue taking place on every stand and in every meeting room.
The atmosphere around COP differs greatly. In traditional trade negotiations, even multilateral ones, generally there is frequent collaboration between negotiators and those they affect, and there are deep discussions about impact.
In the Australian context, that means daily dialogue about how a string of words would work in practice, and asking whether it suits our current and future plans, our strengths, and helps address our weaknesses.
At COP, business stays abreast of the negotiations, but is getting on with doing the deals in real time, selling e-fuels, advanced AI to predict climate damage before it happens, and novel reactor concepts in nuclear – code for SMRs and micro-reactors, among others.
One thing that is obvious here at the great world fair of COP, is that Australia is well-placed to make the most out of the myriad and rapidly developing COPportunities, both in terms of exports and jobs – benefitting Australian businesses from large to small, across both goods and services.
We have so much of the world's energy resources and the necessary critical minerals to develop and sustain the renewable energy sector, and increasingly, the technical know-how to develop and modify systems for greater climate resilience.
The world's financiers, both public and private, are in Sharm El-Sheikh with chequebooks drawn.
The opportunity for Australia is huge.
Zoe McKenzie is the federal member for Flinders. She is attending COP27 with the support of the Coalition4Conservation, an Australian environmental charity working with conservative legislators in Australia and across the globe.